Navigácia
Posledné články
CNC fréza - SOČ
CNC fréza
Zavedenie CNC strojov do výroby sa v posledných rokoch veľmi rozširuje. Hlavným dôvodom je, že na CNC strojoch je možné vyrobiť tvarovo zložité diely, ktoré sa nedajú vyrobiť klasickým spôsobom. CNC stroje disponujú výhodami ako vyššia presnosť, produktivita, opakovateľnosť a minimálna údržba. Nevýhodou sú pomerne vysoké zriaďovacie náklady.
Pri mojich koníčkoch sa často vyskytovala potreba výroby rovnakých dielov. Uvažoval som o výrobe zariadenia, ktoré by moju prácu uľahčilo. Prípadne by som toto zariadenie mohol využiť na možnú budúcu podnikateľskú činnosť. Preto som sa rozhodol navrhnúť a skonštruovať trojosovú CNC frézu. Súčasťou práce je aj riadiaci systém, ktorý prostredníctvom paralelného portu komunikuje s riadiacim softvérom. Mojim cieľom bolo využiť možnosti PC riadenia obrábacieho stroja so zámerom zlepšiť presnosť a spoľahlivosť zariadenia. Práca obsahuje z môjho hľadiska netradičné riešenie mechanickej konštrukcie s využitím krokových motorov. Číslicový riadiaci systém využíva kvantovanie a kódovanie s využitím alfanumerických riadiacich algoritmov. Na programovanie využívam softvér EMC2. Mechanická konštrukcia využíva pohyb vretena a pohyb portálu. Rám konštrukcie je vytvorený z oceľových profilov na ktorých sú upevnené pohonné elementy poháňané hrebeňovou tyčou. Výkonová rezerva krokových motorov umožňuje obrábať drevo, plasty a neželezné kovy.
Tento stroj by mohli využívať aj malí podnikatelia alebo menšie firmy na výrobu produktov na propagačnú činnosť.
Návrh
Najskôr som sa musel rozhodnúť, aký materiál budem chcieť frézovať a akých rozmerov. Po dlhšom uvažovaní som sa nakoniec kvôli potrebnej mobilite rozhodol pre čistú frézovaciu plochu 150x200x100 mm. Celá fréza je skonštruovaná z ocele a všetky pohyblivé časti sa pohybujú na priemyselných ložiskách. Ďalej som si zvolil vzájomnú polohu materiálu a vretena. Vreteno sa pohybuje v osi z a materiál v osi x, y. Týmto usporiadaním som dosiahol najväčšiu konštrukčnú presnosť a minimalizáciu vibrácií, ale za cenu menšej frézovaciej plochy. Vibráciám taktiež zamedzuje masívna konštrukcia, vďaka ktorej je obrábací stroj stabilný.
Stavba mechaniky zariadenia
Na stavbu zariadenia som použil oceľové platne o hrúbke 8 mm a L profily. Hlavná platňa o rozmeroch 400x300x8mm slúži ako podstavec celého stroja a nosná časť osi x. Na nej pomocou pohybových elementov lineárne upevnená platňa o rozmeroch 300x200x8 mm, ktorá je nosnou časťou osi y. Nad ňou je pripevnený portál o rozmeroch 200x150x8 mm, ktorý je pracovným stolom stroja.
Pohybové elementy tvoria moduly na princípe koľajníc. Na každú os prislúchajú dva tieto elementy. Každý element sa skladá z L profilu, na ktorom sú zaskrutkované štyri priemyselné ložiská. Tieto elementy sa pohybujú po L profile z nerezovej ocele. Týmto nekonvenčným spôsobom je zabezpečený pohyb po všetkých osiach. Vďaka priemyselným ložiskám je pohyb plynulý a stroj vyžaduje minimálnu údržbu pohyblivých častí.
Otáčavý pohyb z krokového motora je transformovaný pomocou hrebeňovej tyče na pohyb lineárny. Táto tyč je zakotvená v dvoch priemyselných ložiskách, ktoré sú zalisované do oceľovej súčiastky na to určenej. Táto súčiastka taktiež slúži na uchopenie krokových elektromotorov pomocou závitových tyčí.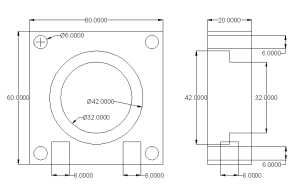 Na prepojenie hrebeňovej tyče a krokového motora som použil vysokotlakovú plynovú hadicu. Gumené prepojenie zabráni prenosu vibrácií a pohltí nepresnosti.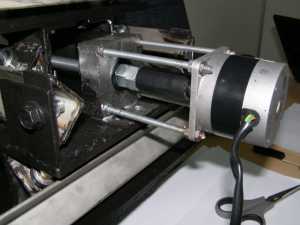 Riadiace obvody
Pohyb portálu a vretena zabezpečujú tri bipolárne krokové motory. Na ovládanie každého krokového motora sú potrebné dva plné mostíky. Preto som sa rozhodol na ovládanie krokových motorov použiť špeciálny integrovaný obvod Toshiba TA8435H. Tento integrovaný obvod umožňuje nastaviť prúd motorom na 65% alebo 100%, ďalej nastavenie krokov motoru 1/1, 1/2, 1/4, 1/8, čo v mojom prípade znamená 200, 400, 800 alebo 1600 krokov na otáčku.
Na riadenie otáčok slúžia dva vstupy: STEP (krok) a DIR (smer). Na otočenie rotora o 360° je potrebných 1600 impulzov. Tieto impulzy sú generované programom EMC2 pomocou rozhrania paralelného portu LTP.
Krokové elektromotory
Krokový motor je špeciálny druh viacpólového synchrónneho motora. Využíva sa predovšetkým tam, kde je potrebné presne riadiť konkrétnu polohu rotora. Princíp krokového motora je na základe prúdu prechádzajúceho cievkou statora, ktorý vytvorí magnetické pole. To pritiahne opačný pól magnetu rotora. Motor je schopný v tejto polohe presne stáť. Krokový motor dokáže nielen otáčať rotorom, ale zabezpečuje aj jeho presnú polohu voči statoru. Kvôli prechodovým javom je rýchlosť otáčania motora obmedzená. Pri jej prekročení motor stráca kroky. Pri bipolárnom riadení prechádza prúd vždy dvoma protiľahlými cievkami navzájom opačne orientovanými magnetickými poľami. Výhodou je väčší krútiaci moment a stabilita kroku, nevýhodou vyššia spotreba.
Optické oddelenie
Doska je navrhnutá tak, aby bola galvanicky oddelená od paralelného portu LPT a elektroniky motorov. Priame prepojenie bez tejto dosky je tiež možné, ale v prípade poruchy dosky riadenia motorov hrozí na paralelnom porte prienik napájacieho napätia motora, čo by malo za následok zničenie portu. Táto doska je napájaná napätím +5V.
Nastavenie programu EMC2
Aplikácie - CNC - EMC2 Stepconf Wizard
Nastavenie programu EMC2 vykonáme pomocou sprievodcu. Ako prvé zvolíme názov nastavení, počet osí, šírku jednotlivých impulzov, maximálnu frekvenciu a jednotky vzdialenosti.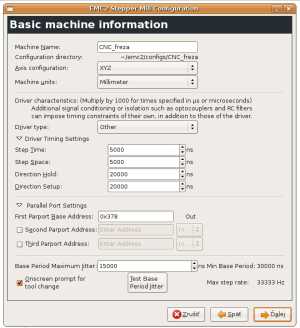 Ďalej vyberieme funkcie pre výstup a vstup paralelného portu. Voľba invert neguje výstup alebo vstup.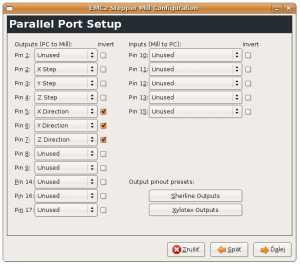 Pri nastavení motorov musíme zvoliť koľko krokov je potrebných na posunutie osi o jeden centimeter. Tento údaj vypočítame jednoduchým vzťahom, keď vieme, že na otočenie o jednu otáčku je potrebných 1600 krokov a hustota hrebeňovej tyče je 1,75 mm. Týmto spôsobom je zabezpečená presnosť stroja. Ďalej je to nastavenie maximálnej rýchlosti pohybu osi a akcelerácia, ktorá zabezpečuje plynulý chod pri vyšších rýchlostiach posuvu.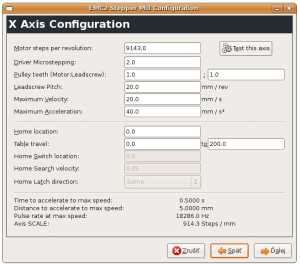 Vytvorenie G-kódu z programu Eagle
Eagle je program na vytváranie návrhov schém a DPS. V základnom balíku neposkytuje funkciu generovania G-kódu, ale na internete existuje skript, ktorým sa dá Eagle rozšíriť. Ide o skript PCB-GCODE. S týmto programom sa komunikuje pomocou príkazového riadku programu Eagle. Na nastavenie slúži príkaz "run pcb-gcode --setup".
V nastaveniach zadáme údaje ako hĺbka vrtu, šírka frézky, maximálna medzera, hĺbka písma, šírka kroku, rýchlosť pohybu osí x, y a rýchlosť vŕtania. Keď máme všetko nastavené vygenerujeme G-kódu pomocou príkazu run pcb-gcode [filename].
Výsledok práce
S výsledkom mojej práce som spokojný, splnila moje očakávania a ciele, ktoré som si stanovil pri začiatku práce. V praxi sa stretávame s podobnými zariadeniami čoraz častejšie, avšak ich cena je vysoká. Jedným z mojich cieľov bola aj cenová dostupnosť. Priame náklady, ktoré som vynaložil na stavbu zariadenia bolo omnoho nižšie, ako keby som stroj kúpil. Moje zariadenie komunikuje pomocou bežného programovacieho jazyka, takže každý kto rozumie problematike, by nemal mať problém pri tvorbe programu. Zariadenie nevyžaduje špeciálne bezpečnostné opatrenia. Stačí sa riadiť všeobecne platnými pravidlami pre obrábanie. Stroj dosahoval dobré výsledky pri všetkých prácach, ktoré som si stanovil na začiatku práce. Programovanie stroja som chcel zjednodušiť tým, že bude použitý bežný programovací jazyk CNC. Takúto možnosť mi poskytol aj riadiaci softvér EMC2 a operačný systém Linux, ktorý bezchybne spolupracuje s mojím zariadením a navyše je úplne zadarmo.
Zhrnutie
Výsledkom mojej práce je skonštruované CNC zariadenie, ktoré splnilo všetky moje očakávania. Pri stavbe tohto zariadenia je potrebné mať znalosti informatiky, elektrotechniky a v nemalej miere byť zručný aj v strojárstve. Skonštruovanie a oživenie takéhoto zariadenia je časovo, ale aj manuálne náročná práca. Potrebné diely je možné kúpiť v profesionálnych CNC obchodoch, čo by značne ovplyvnilo cenu zariadenia. Pri výrobe zariadenia je potrebné jednotlivé konštrukčné diely presne zladiť, aby nevznikali odchýlky.
Komentáre
#201
|
hhevoyjufu
dňa máj 10 2022 02:32:46
#202
|
oauropuv
dňa máj 10 2022 05:54:34
#203
|
waseqecazafi
dňa máj 10 2022 19:44:42
#204
|
ewibiwusiho
dňa máj 11 2022 14:41:52
#205
|
evikuvai
dňa máj 12 2022 23:56:19
#206
|
iogeqowa
dňa máj 13 2022 15:41:13
#207
|
qoduwicesog
dňa máj 14 2022 12:20:38
#208
|
iroseaogo
dňa máj 15 2022 10:09:58
#209
|
idazzec
dňa máj 16 2022 06:56:47
#210
|
evuhebav
dňa máj 16 2022 21:25:30